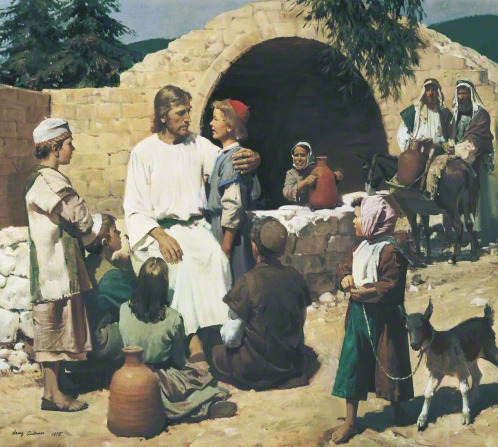 "But Jesus said, Suffer little children, and forbid them not, to come unto me: for of such is the kingdom of heaven." (Matt. 19:14)
In our Heavenly Father's church, children are given an opportunity to be taught and to teach others from the scriptures. Jesus showed the way, as a twelve-year-old, in teaching in the temple. In the Church of Jesus Christ of Latter-Day Saints there is a program for children called Primary. Young people, ages 3 to 11, are taught from the scriptures and are given opportunity to teach their peers, through talks, thoughts, and music.
Sister Tiffany and one of her Primary children, Kaylee Wentzell. Don't they look great together. Kaylee just walked up to Sister Tiff and wrapped her arms around her.
Jacob Moses and Samantha Jong Moses immediately following their marriage for time and all eternity, performed by a man holding the Holy Melchizedek Priesthood, with the authority from God to seal them together as eternal partners.
Here we have the Branch Presidency of the Young Single Adult Branch of the Dartmouth, Nova Scotia Stake - 1st Counselor Paul Aalders, President Richard Moses (father of the groom), and 2nd Counselor Elder Richard L. Tiffany.
Elder T, enough said!
Pres. Moses' birthday was the same day as his son's wedding, so we had some cake to share with him on Sunday following church meetings.
Sister Tiffany's serving up some birthday cake for everyone to enjoy.
We feed a lot of youth and missionaries, often. Here we have Sisters Echols and Drew, David Barrett - our new branch mission leader, and Elders Campbell and Hadley. They love to eat at the Tiffany's!
From out our window. It's not the South Pacific, but it is still beautiful!
Can you see Ricky Raccoon? We found him scooting around on top of the church and we're happy to finally get a picture of some wildlife on our blog.
Some more feeding time at the Tiffany's. Meet Sisters Laxton, Lee, Broadhead, Tiffany, and Ott.
Newfie Fries!! Have you tried them? Sister Edwards, a temple missionary told us we needed to experience them, sold at a shop close to the temple. French fries, hamburger gravy, and melted cheese - no calories there! Can you hear your heart valves slamming shut!! (But it was very tasty!)