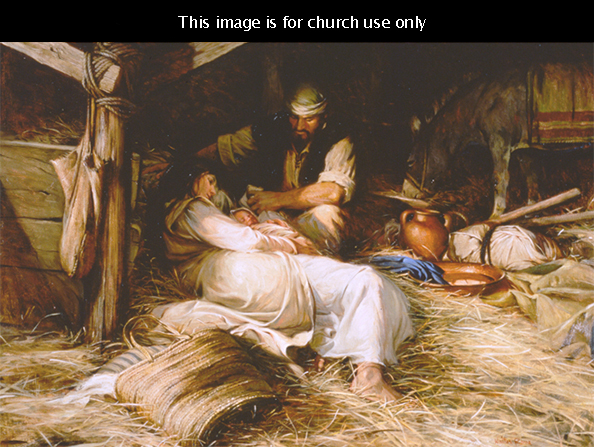 1

And it came to pass in those days, that there went out a decree from Cæsar Augustus, that all athe world should be btaxed.
8
And there were in the same country shepherds abiding in the field, keeping watch over their flock by night.
9
And, lo, the angel of the Lord came upon them, and the
a
glory
of the Lord shone round about them: and they were sore afraid.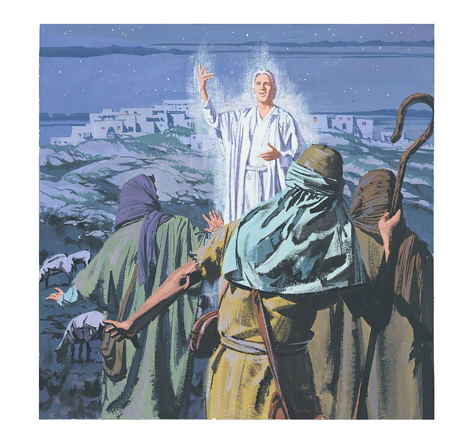 10
And the angel said unto them, Fear not: for, behold, I bring you
a
good
tidings of great
b
joy
, which shall be to all people.
12
And this
shall be
a
a
sign
unto you; Ye shall find the babe wrapped in swaddling clothes, lying in a manger.
15
And it came to pass, as the angels were gone away from them into heaven, the shepherds said one to another, Let us now go even unto Bethlehem, and see this thing which is come to pass, which the Lord hath made known unto us.
16
And they came with
a
haste
, and found Mary, and Joseph, and the babe lying in a manger.
17
And when they had seen
it,
they made known abroad the saying which was told them concerning this child.
18
And all they that heard
it
a
wondered
at those things which were told them by the shepherds.
19
But Mary kept all these things, and
a
pondered
them
in her heart.
Because we are away from our family during this Christmas season, we wanted to share with all of you the event from the scriptures which we share with them every Christmas Eve. We can't be in a better place than where we are at this time, and doing what we are doing. The life and mission of our Savior is the most important thing that has happened to and in the world since its creation and the events in the Garden of Eden. We have been called by Him to represent Him as though He Himself were here, saying and doing what He would say and do if He personally were ministering to the very people to whom He has sent us. Our voice is His voice, and our acts are His acts; our doctrine is His doctrine. Our commission is to be a living modern witness in word and deed of the divinity of His great and marvelous Latter-day work. How great is our calling! (a quote from Elder Bruce McConkie). And how thankful we are for those who support us in this work, and to our loving Heavenly Father for watching over us and our families while we are away.
Week before last (boy, I've got to be better at keeping this blog thing up to date!) we took the opportunity to visit some early morning seminary classes. Wednesday of that week we were up at 5:30, Thursday at 5:00, and Friday at 4:30. We have some really great teachers who are very dedicated to teaching the gospel to the youth. And, for the most part, they do a pretty good job. This is a precursor of our schedule after the new year starts. Since nothing drastic happened on Dec. 21st, we're scheduling future visits and training with as many teachers as we can. We get so involved in what's taking place in the classes that we forget to take pictures of these dedicated teachers and students. We'll try to do better in the future.
We had an opportunity to go to the eastern tip of Nova Scotia, on assignment from the mission office and our institute coordinator. We went to check on what is happening with seminary and institute in Cape Breton, and to inspect the missionaries apartments. We forgot our camera, so we didn't get pictures - this time! We may be going back in a week or two to take some new furniture to the Elders, and we will be sure to take the camera then. Cape Breton is the last point of main land before taking a ferry ride to Newfoundland. It has some of the highest elevation points in Nova Scotia - approximately 800 feet above a
very cold
sea level! The people are friendly and very proud of their heritage and homeland.
We met the most interesting and eccentric man, whom everyone should have the experience of meeting. He is probably the most cheerful soul in all of Atlantic Canada. When we return to Cape Breton we'll be sure to take his picture. He's not a member of the church, but when the branch closest to him was open, he walked 7 miles to and from church every Sunday for a number of years. He's very well acquainted with the church, Utah, and all things Mormon. He even takes the
Church News
and
Mormon Times
from the Salt Lake Deseret News Corp. A very friendlyman.
The Centurion
The Bridgewater Ward sponsored a live nativity, with live animals and everything! This nativity is probably the most unique we've ever seen. One couple used to do this inside their home, clearing out their furniture and bringing in the animals and props. Because of a lack of room, visiting was by invitation only. But this year it was in a barn and everyone was welcome. We signed in with a Centurion, given a bag of shekels, and instructed to reserve a room at the inn right away. As we stepped through an opening we were greeted by a number of small booths where we could buy trinkets, dried fruit, candles, and so on. The place was packed and most visitors were in costume (we went as senior missionaries). After awhile we were sent to the "inn", stacked hay bales, and it was very crowded. Enter Joseph and Mary, who try to barter for a room - and there definitely was
no room
! The inn keeper ushered them to a stable, where they brought forth their son. Singing angels entered, then shepherds. We all sang a few Christmas hymns, then viewed the baby (a real, live baby). It was very realistic, and ultra cold, but very helpful in reminding us of the trials of Mary, Joseph, and their firstborn Son.

The Innkeeper
Joseph and Mary -
turned away from the Inn
Elder Unger,
Santa's favorite elf
Last Wednesday we had a full day of training with all the missionaries in the province of Nova Scotia, and Pres. and Sis. Leavitt. The morning was spent in training how to proselyte more effectively, then we went to a local restaurant for a Christmas dinner. Back at the church we exchanged gifts, had a talent show, then pictures. Santa and his head elf were there to wish us a Merry Christmas! It was fun, entertaining, and educational, with the spirit to get things into our hearts and not just our heads. And to top it all off - it finally snowed! We had about 3-4 inches of snow. Mind you, it didn't snow down the hill from us in greater Halifax, nor across the harbor in Dartmouth. Just the higher elevations of our area (maybe 100 feet above the water level). It was melted in a couple of days, so we're back to springlike weather.

Elders Grasteit, Farnsworth,
& Harris
We had an opportunity to have dinner at the Mission Home with Pres. and Sis. Leavitt, and a few missionaries, three of whom were going home the next day. Sis. Leavitt called and invited us to join them, which was unusual. After dinner, we shared a few missionary moments and our testimonies of the gospel work we're involved in, then said goodby to those leaving the mission field for home, Elders Farnsworth, Harris, and Grasteit. Elder Farnsworth was a favorite of ours and he'll be missed.
Have a safe and very Merry Christmas and a Happy New Year. Please take the time to remember what our Savior has done for us, and return our thanks by being of service to our families, friends, and everyone we meet. Like the Wise Men, let us continue to seek after Him throughout our life, with faith, hope, and charity towards everyone.