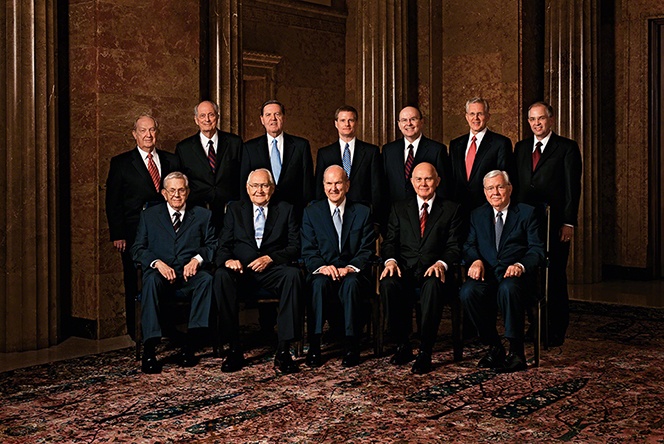 The First Presidency and
The Quorum of Twelve Apostles -
Our "Watchmen on the Tower"
Elder Gibbs is one of our favorites. We've known him since his first day in the mission, last summer, and he attended our institute classes in Bridgewater last fall. He's now in the Halifax North area where we live, and is a great young man. Here he is with Dan Pringle. I didn't get a picture of them in their baptismal clothes, but Dan is the newest member of the Church and the YSA Branch.
Between sessions of conference we blessed a very special baby. Here we have the missionaries. Then Sauesi, Andrea, and Leilani Marie Pahulu, then Papa(?) and Nanny Roger and Anna Davison. Sauesi was home from Alberta oilfields for about five days, Andrea came straight from the hospital to the church for the blessing. Don't they look great!
While we were in Liverpool to visit the seminary class, we decided to spend the day with family. This a luxury that missionaries rarely have. It is missionary work, however, because none of Sister T's family belong to the church, but have become very supportive of us and the work we're engaged in. Here we have everyone trying to make a choice for lunch at White Point Lodge. Nat, our niece-in-law, is taking advantage of the photo shoot.
Sister Tiff, sister-in-law Sylvia, and brother-in-law John are enjoying really great fish and chips, a favorite dish in the Canada Maritimes.
Sister Tiff on the balcony outside the dining room of White Point Lodge.
Elder Tiff obviously enjoying his time at White Point. This Lodge is one of the most popular tourist sites in Nova Scotia, just a short drive from Liverpool.
Our final stop on this trip was at the home of Bro. and Sis. Wayne and Diane Hunt. She is an amazing cook and they are very close friends. Wayne was a member of the first Canada Halifax Temple Presidency and Diane was our Relief Society President when we lived in Mahone Bay, attending the Bridgewater Branch. They were recently released as Family History Missionaries.
JJ Choo is our daughter from a different mother. Being a hair stylist, she does really great work with Sister T's hair. We had a better shot of Sister T while her hair was being done, but she insisted it be deleted. But the finished product sure looks great!
Elder Tiff is obsessed with the Halifax/Dartmouth Bay and the shipping traffic that passes through it. This shot is looking out to sea from the McKay Bridge, the MacDonald Bridge in the distance.
Canada Coast Guard keeping our coasts and shores safe.
Taken at 70 kilometers/hr (about 45 mph) - a photo of a freight ship filled with shipping containers being pushed out to sea.
Another freight ship of containers coming in from the sea with more containers. We're continually on the lookout for the container carrying our possessions from home, hoping we'll never see it here.
We were given the assignment to feed a crowd of about 75 institute students and guests at the Institute Closing Social. Here we have Sisters Drew and Hart, and Amber Jewers (back left) giving us a hand in the kitchen. Sister Tiffany is a genius in the kitchen and came up with a menu that was loved by everyone. ET just followed directions and tried to keep up or stay out of the way. We spent a good part of the week planning, purchasing, and preparing for what was consumed in less than 30 minutes.
Banquet Prep!
Elder Tiff did get to prepare the dessert. And there was still some left for others to enjoy.
Two tables ready to serve.
Just a part of the crowd that enjoyed the evening.
Last night (4/14) we participated in a musical fireside in Truro with some missionaries from Nova Scotia and New Brunswick. It was very entertaining and a spiritual feast. It was identical to the Easter fireside we did at the stake center in Dartmouth, with instrumental and vocal solo numbers by the younger missionaries, combined with testimonies of the divinity of the Savior and his love for us.
As you can see, our missionary assignments take us a lot of places, doing a lot of things that not every missionary couple gets to do. We were given an opportunity to change our assignment, at one point earlier in our mission, but we chose to continue in the calling given us by the prophet, and we don't regret it. Heavenly Father blesses us continually, and we pray constantly that we may be sharp instruments in His hands to accomplish what He has sent us here to do. We believe the end of our mission here will be a bittersweet moment - leaving one family to go home to another. But we knew that would be our lot when we received our call to this mission, and we gladly accepted the challenge.